Being home alone can mean that I swing one of two ways for dinner: I'll either succumb to the lure of a Dominos pineapple pizza and the oh-so-wrong-oh-so-right garlicky dip that accompanies it, or I'll take it as an opportunity to practice a new dish. As I plan to run round Battersea park for charity next month, greasy deep pan is not an option and I turned my attention to creating something equally satisfying in my own kitchen.
Let me introduce you to spicy butternut quesadillas and tomato salsa…
Squash Quesadilla
Adapted from a dish I was served a couple of years back in Masterchef winner Tomasina Miers' fabulous Wahaca restaurant in Covent Garden. I'm yet to get my hands on a copy of her latest book, Mexican food made simple, but I'd hazard a guess that you will find some pretty decent modern Mexican dishes in there. The secret to getting your quesadillas crisp is to cook them in butter. A griddle is best if you have one, but a regular frying pan will do.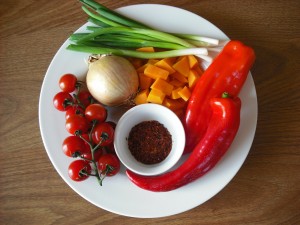 Ingredients
500g butternut squash
4 tablespoons vegetable oil
1 diced white onion
1 tablespoon minced jalapeno
1 clove garlic, minced
2 long red peppers (Poblano), roasted, peeled and cut into strips
Salt and pepper to taste
Flour tortillas (I'll ask David to put his recipe for this up on the site soon but, in the meantime, shop bought ones will do fine)
A generous amount of grated cheese of your choice (I used a vintage cheddar, it isn't Mexican but it was in my fridge!)
Butter for frying quesadillas
Garnishes: sour cream and/or salsa (recipe below) and a handful of salad leaves
Instructions
First, roast the squash. Preheat the oven to 200C/fan 180C/gas 5 and lightly oil a baking sheet. Peel and cut squash into 2cm chunks. Lay them on the baking sheet and roast for about 15 minutes, until soft but not cooked to mush. (You'll finish it in the pan.) When cool enough to work with, pop it in a bowl.
Saute the onions, garlic and jalapeno in the oil until translucent. Add the pepper strips and cook for a couple minutes more. Add the squash and cook for another 5 or 10 minutes, until the squash is tender. Season with salt and pepper and take off heat.
Spread a few tablespoons of the cooked squash mixture onto one half of a tortilla. Sprinkle with a couple tablespoons of the cheese.
Fold over and place in a hot pan with melted butter, and fry for a couple of minutes on both sides until crispy.
Cut the finished quesadilla into triangles and top with your choice of garnishes. Eat while warm.
Smooth Tomato Salsa
Ingredients
12 Vittoria tomatoes, halved
1/2 bunch of spring onions, roots and green ends trimmed, roughly chopped
3 garlic cloves, crushed
2 jalapenos, roughly chopped
Pinch of allspice
Salt to taste
Instructions
Puree all ingredients together in a blender. Season with salt.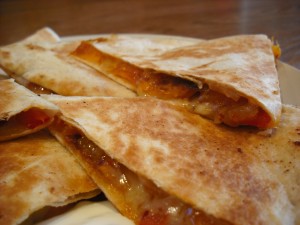 Like a pizza it's tasty, cheesy, tomato-y and crispy and, best of all, the feud between Mr Dominos and my bathroom scales is over forever!