I can say with confidence that we have dined at the most British of British restaurants. It's in the capital overlooking the site of the 2012 Olympics, it dishes up salmon that's been 'London cured' on the premises since 1905, it serves glorious syrup sponge puddings steaming in individual Tate & Lyle tins. Oh, and it's got its own coat of arms!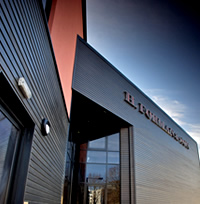 H Forman & Son is just moments from the Counter and the Hackney Pearl so, in theory, you could have a rather lovely day-long food tour of this decrepit part of Hackney. Highlights of our evening meal included a miniature copper saucepan containing yellow, buttery, fluffy Jersey Royals that accompanied the smoky eel fillet starter (though the eel itself must be an acquired taste) and the sea bass which married very well with a sweet vanilla froth.
Mind you, the meal was not the only well conceived thing about Formans. You can wander round the Smokehouse art gallery on the second floor while you wait for your table. Although we dined late and missed opening hours, the friendly doorman assured us it is well worth a look. The wine menu was extensive – huge glass-fronted wine coolers registering a different temperature for each type of grape line the walls as you enter the restaurant, daring you to get sozzled in the shadow of the Olympic stadium. The pièce de résistance, however, was the walk to the loos. No joke. A darkened corridor with stainless steel portholes allows diners to peer down onto the smokehouse. Ghostly and clinical in the evening, the factory floor is home to a kiln-shaped smokery bigger than most East London flats. If there's anything that adds to an already special meal out, it's a little bit of adventure and a large helping of industrial cookware.