"Mmmm". "Oh God".  "I will die".  "Die-abetes, you mean".  Just a few of the choice phrases uttered through mouthfuls of chocolate by friends and colleagues on trying these morsels.
This take on a brownie is so rich that a slab baked on a Monday should last until Sunday, disappearing one sticky slither at a time with cups of tea.
I have previously ranted about the qualities of the ideal brownie and, until this recipe came along, I thought I had it sussed.  But adding a decadent layer of salted caramel here elevates this cake above and beyond anything I had thought possible.  Try it.  You'll never go back.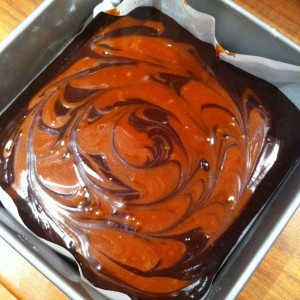 Ingredients (makes about 20 small squares)
For the caramel:
75g white caster sugar
50ml double cream
10g unsalted butter
½ tsp sea salt flakes
For the brownie:
100g unsalted butter
150g caster sugar
100g light brown sugar or muscovado, either works a treat
75g golden syrup
300g dark chocolate, chopped into small chunks (80% cocoa if you can get it)
4 eggs
70g plain flour
Instructions
For the caramel:
Tip the sugar into a heavy-bottomed saucepan in an even layer. Place over medium  heat
Wait until the edges start to liquify then move the sugar around onto the wet spots to melt. Do not stir but keep everything gently moving until you have a liquid
Cook until the liquid takes on a copper colour
Remove from heat and whisk in 1/3 of the cream (stand back from pan, it will sizzle a fair bit!)
Keep pouring and whisking until all the cream is incorporated
Add the butter one small chunk at a time and the salt and stir until smooth
Pour into a bowl and leave to cool
For the brownie:
Preheat the oven to 160C
Line a 20x20cm tin
In a big saucepan place the butter, caster sugar, brown sugar and syrup
Heat until everything is melted then beat until it becomes a smooth mix
Take off the heat then add the chocolate and stir until melted
Lightly whisk the eggs in a small bowl then incorporate them into the mixture
Add the flour and beat thoroughly until very smooth
Pour into the prepared tin
Spoon your caramel evenly over the mix then use a knife or chopstick to lightly swirl it through
Bake for 20 minutes then take out and leave to cool in the tin
Once cool, put into the fridge overnight
Slice into small squares with a sharp knife.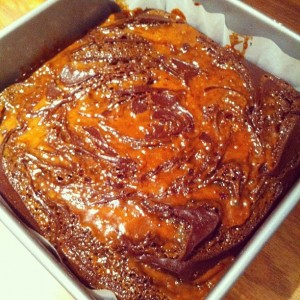 I find this this brownie is so gooey it is best served straight from the fridge and it'll keep there happily for a week in an airtight container.