A quick one, since I served these up twice over the last weekend. Barbecue weather has arrived in California.
This a dead-simple dessert to follow a barbecue. Bananas require very little preparation and are well suited to the dwindling heat of coals past their peak. Plus, they can be left cooking for a variable long time whilst your guests digest all the sausages they've filled up on.
Dad used to cook these all the time over the summer when I was a kid; it's been a favourite part of every barbecue with my family.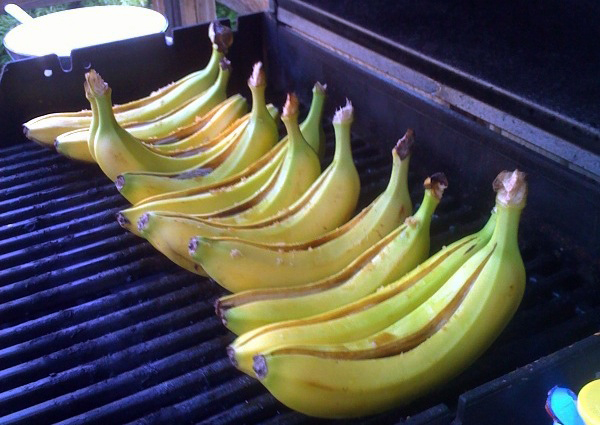 The recipe is very simple:
One banana per person
Muscovado sugar (or the best alternative dark brown sugar you can find)
Dark rum (Ward tradition dictates Mount Gay Eclipse Rum)
Slice down the length of the banana, along the inside of the curve. Be careful not to cut through the skin on the other side (the banana will be cooked in its skin). Then, run your thumb deep along the incision to open it out and make a cavity.
Fill the cavity will muscovado sugar.
Before grilling, pour rum into the sugar, up to the brim of the open skin. You might get half a shot in, but it's really not exact. You can add more during the cooking if you like, or if (when) a banana falls over. Since it's the end of the barbecue and you're probably drunk, I'll remind you now that rum is obviously flammable, so be careful of spills as you're placing each onto the grill.
If you're making these for children, you can use lemon juice instead of rum (actually, this is super-tasty in its own right; lucky kids.)
The barbecue heat needs to be dropping. If you've a gas barbecue, use a low heat. Time is key. Once on, expect to leave them 45 minutes. As they cook the bananas will soften, melting together with the sugar and rum.
Serve in their skins with a single small scoop of thick unsweetened cream, or vanilla ice cream.
Photograph by Amy Hammond.