While David and Ben have been living it up in America, I've been slaving away in chilly London preparing for a traditional home-made Christmas.
We've got gingerbread tree decorations and hand painted wrapping paper but my success for the festive season has to be the Christmas cake to end all Christmas cakes! Now, I've never baked one before but I was chief bowl-licker for many years as a child so I felt pretty confident… Sticking with the back to basics retro theme I ended up adapting a recipe from this awesome-looking 80's cookery magazine.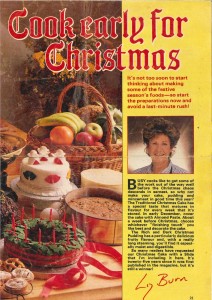 I started soaking the fruit for this recipe (220g each of sultanas, currents and raisins, 100g each of chopped glace cherries and chopped dates, 50g ground almonds) at the end of October and it sat, in a dark corner of the kitchen, absorbing the following selection of booze over a three week period: Balvenie whisky; Chambord and St Germain liqueurs; and two types of French brandy. Lovely!
Then the following ingredients were plonked, in the order listed, in a massive mixing bowl and stirred vigorously by everyone in the house until our arms fell off.
220g butter, creamed with 220g soft brown sugar until light and fluffy
4 eggs, added one at a time
1 tablespoon of golden syrup (I prefer this to the treacle demanded by the recipe)
1 teaspoon of vanilla essence
300g plain flour
1 teaspoon mixed spice
1 teaspoon cinnamon (not because it's in the original recipe asked for it, but because I like it)
½ teaspoon salt
Alcohol-soaked fruit (forsaking the optional 100g mixed peel as, in my opinion, it tastes nasty)
Everything gets spooned into a round 9" cake tin – that you've cunningly lined with baking paper – and baked at 140 degrees for 3½-4 hours.
I made my own almond paste and it was surprisingly easy but you could always buy a ready-made pack of marzipan if you're feeling lazy (or have consumed too much mulled wine). As you can see from the picture below, I went for traditional plain royal icing as decoration. There's still two weeks to go until Christmas and we've had to hide the finished cake lest the temptation to cut into it early gets too much. This is the most eagerly anticipated cake in London. Fact.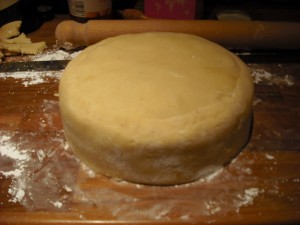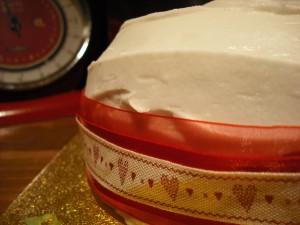 .