I love winter in London.  There's nothing like heading home bearing shopping bags laden with market-sourced comfort food and battening down the hatches against the freezing drizzle that's the hallmark of a grey weekend in this city.  One of my favourite dishes takes advantage of the treats available at Borough Market and our local stalls at Broadway (if you can avoid the tourists at the first and dodge the hipsters at the second).
This fish pie is the result of a combination of recipes from three very different cooks: shouty, sweary Gordon Ramsay;  glam homebody Sophie Conran; and hit-and-miss me.  Don't be put off by the different cooking stages – with practice this is actually a really good bung-it-in-the-oven-and-forget-about it type meal that will serve four people.  You will need:
25g butter
4 shallots, finely chopped
½ fennel bulb, finely chopped
250ml dry white wine
200ml of Absinthe (or other aniseed-y flavoured alcohol of your choice)
500ml fish stock
500ml double cream
1-2 tbsp wholegrain mustard
salt and pepper
800g mix of fish fillets (I used sustainably sourced smoked haddock, salmon and pollack)
200g king prawns (the recipe pictured shows some fresh scallops that I picked up to chuck in – I'd just been paid and it seemed sensible at the time.  However, this recipe is luxurious enough as it is and they were probably overkill!)
Squeeze of lemon juice
Few sprigs of thyme
Small handful of flat leaf parsley
To make the filling heat the butter in a pan and sweat the shallots and fennel until soft. Add the wine and absinthe and reduce by half. Add the stock and bubble away again until reduced by half.  Pour in the cream and boil until reduced to a sauce like consistency. Strain through a sieve, discarding the shallot and fennel. Stir in the mustard, season then leave to cool.
While the sauce cools for a bit, heat the oven to 180 degrees.  Cut the fish into chunks (removing any obvious 'you will choke on me' bones).  Poach the fish in enough water to cover, with a squeeze of lemon juice and the thyme, for about 15 mins. Remove the fish from the poaching liquid.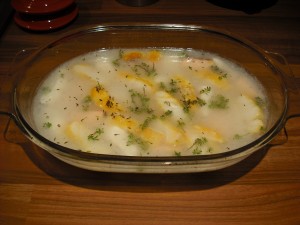 Fold the prawns, fish and optional scallops into the sauce with a little extra lemon juice and chopped parsley. Transfer to an oven proof baking dish or, as I did, portion out into individual pie bowls.
Everyone has their own perfect mash recipe and here follows mine (courtesy of Mr Ramsay).  Cook 5 large Maris Piper potatoes in boiling salted water until tender, and mash with a little milk and butter until smooth. Beat in 2 egg yolks, then spoon the mash evenly over the fish mix.
Bake the pie for about 20 minutes until bubbling and golden brown on top. Serve with whatever veg takes your fancy and gobble down until you slip into a food coma that will last the rest of the evening.  Heaven.