It's a well-known fact of baking that things can sometimes go extremely wrong.  Case in point would be my lovely recipe for chocolate fondant that is usually about as reliable as you can get for this notoriously temperamental pudding.  I've made it a few times before and it's been known to bring grown men to their knees.
However, this time I thought I'd try something new.  We bought five bars of unusually flavoured bars of organic chocolate (chilli and lime, butterscotch, vanilla and peppermint, geranium and orange and nutmeg) from Montezuma's beautiful little shop in Spitalfields market before Christmas and I'd been keen to cook with them from the instant I got them home.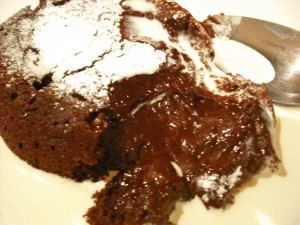 I thought the geranium and orange variety would be perfect for a fondant; floral and light but with a bitter kick of dark chocolate.  I was wrong, so wrong.  If you remember parma violets with fondness then this is the recipe for you.  If, like me, you hate the bloody things then steer clear of the flower beds and make this dish using a nice slab of Green & Black's 85% Cocoa.
Ingredients
50g unsalted butter, plus extra to grease
2 tsp cocoa powder, to dust ramekins
50g good quality chocolate (any flavour but geranium), in pieces
1 free range egg
1 egg yolk
60g caster sugar
50g plain flour
Icing sugar to dust
Instructions
Preheat oven to 160 degrees
Butter two large ramekins and dust with cocoa powder, shaking out any excess.
Melt the chocolate and butter in a bain marie, then take off the heat and stir until smooth. Leave to cool for 5 minutes.
Whisk the egg, egg yolk and sugar together until pale and thick, then add the chocolate mixture. Sift the flour over the mixture and fold in, using a large metal spoon. Divide between the ramekins and bake for 12 minutes.
Turn the chocolate fondants out and sprinkle with icing sugar
The moral of the story: cooking experiments can be really exciting but if it ain't broke, don't fix it.