I promise this is my last baking post for a while. My colleagues and housemates are getting fat from the proceeds of this blog and someone has to think of the burden on the NHS.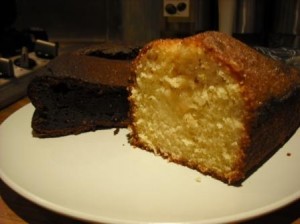 The cake on the left is Nigella Lawson's chocolate and hazelnut goo fest.  The recipe can be found on her website here but I would recommend reducing the ingredients by as much as a quarter as my version rose to 20cms in height and nearly consumed the oven.  This soufflé-like cake was pretty great served warm (and might have been further enhanced by a scoop of Ben and Jerry's).  
The cake on the right is a classic lemon drizzle loaf, sweet and tangy and great with a cup of tea.  This is one of the easiest recipes in my repertoire as it's a straight-forward sponge simply jazzed up with the zest and juice of a couple of lemons.  It only takes about 10 minutes to prepare and 40 to cook.  Have a go at the following recipe:
Ingredients
225g unsalted butter, softened
225g caster sugar
4 eggs
finely grated zest 1 lemon
225g self-raising flour
And for the drizzle you'll need the juice of 2 lemons and 100g caster sugar
Instructions
Heat oven to 180C/fan 160C/gas 4.
Beat together the butter and sugar until pale and creamy, then add the eggs, one at a time, slowly mixing through.
Sift in the flour, then add the lemon zest and mix until well combined.
Line a loaf tin (8 x 21cm) with greaseproof paper, then spoon in the mixture and level the top with a spoon.
Bake until a thin skewer inserted into the centre of the cake comes out clean.
While the cake is cooling in its tin, mix together the lemon juice and sugar to make the drizzle.
Prick the warm cake all over with a skewer or fork, then pour over the drizzle – the juice will sink in and the sugar will form a lovely, crisp topping.
Leave in the tin until completely cool, then remove and enjoy.