I decided to pay my hobbies a little more attention this month and found myself signing up for a class at one of London's top cookery schools, Leiths School of Food and Wine, in an attempt to learn new skills and up my success rate in the kitchen.  Leiths boasts " an international reputation as a first class culinary institute for chefs" but how good would it be for a hit-and-miss home cook like me?
As an enthusiastic amateur baker, I enrolled for the specialist 1-day Cake Class.  We were promised that we would leave five recipes, three cakes and a whole bunch of techniques better off.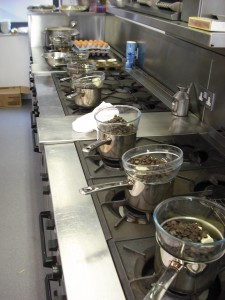 The workshop was held in a bright, spacious professional kitchen and we were indeed taught, with the help of two friendly teachers and two invaluable assistants (who kindly took care of all the washing up), how to bake: pistachio mini-loaf cakes; gingerbread loaves; vanilla, raspberry and elderflower Vicky sponges; brownies; and cupcakes.  While the recipes themselves weren't exactly ground breaking, learning the science behind good baking was really interesting.  Within an hour I'd found out how to stop cake mix splitting (add a generous scoop of flour and keep beating), the   weight of an egg in recipe-terms (55g), why you should make batter fresh for each oven-load when baking batches (the gluten is released as soon as the flour is added to wet ingredients and chemical processes start before the cake gets near the oven), and what method of baking needs bicarb rather than baking powder (melting method cakes – like brownies – or ones that use oil, such as carrot cake ).
Best tip?  Add fruit cordials to icing mixes rather than bottled flavourings for a more varied range of flavours.  Second best tip?  Only attend this course if you're happy in the company of smug yummy-mummies and slightly inept nannies.  Pretending to be interested in Tarquin's favourite brioche was almost as difficult as constructing a triple-layer gateau.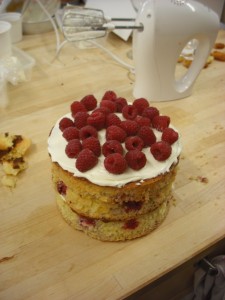 That said, the session was really rewarding and I ran home, arms loaded with full-to-bursting cake boxes, to show off the results of my busy day at school.  I'd definitely like to try some different courses.  Perhaps pasta making at Divertimenti or shellfish preparation at the Billingsgate Seafood Training School?  What would you recommend?