For months I've been meaning to write up my recipe for beetroot soup. Actually, it's been so long now that I've committed it to memory and there really is no need for me to record it online. Of course, in the event that I get hit on the head and forget how to make this delicious, homely dinner – or, indeed, that you might want to give it a try – here's the recipe…
Buy/scavenge/steal the following to feed four people:
3-4 medium (about 500g) beetroot, grated coarsely or diced
6 large (again, about 500g) ripe tomatoes, halved
1 clove garlic, chopped roughly
1 onion, finely chopped
Approx 2 tbsp olive oil
500ml vegetable stock or good bouillon
salt and pepper
125g feta cheese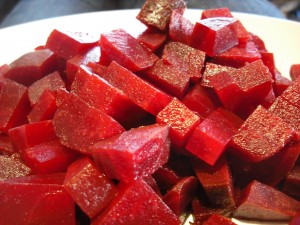 What to do:
First you need to make a simple tomato sauce that will form the base of your soup. To do this place the tomatoes in an ovenproof dish, sprinkle over the garlic and drizzle over a good slug of the olive oil. Roast all that in an oven set at 190C/375F/Gas 5 for 25-30 minutes until soft and pulpy (do the prep for the rest of the recipe while this is cooking). When cooked, rub the sauce through a sieve to remove the skin and pips.
Heat a tablespoon of oil in a pan and sweat the onion for a few minutes until soft.
Add the beetroot and the stock and bring to the boil. Season lightly with salt and pepper. Simmer gently for 10 minutes until the beetroot is tender.
Stir in the tomato sauce and heat through, transfer the soup to a blender and process until completely smooth.
Reheat the soup until thoroughly hot but not boiling.
Divide between warmed bowls and crumble a little feta into each bowl. Serve with crusty bread.
Top tips: Wear rubber gloves if grating the beetroot by hand to prevent staining and, if using a hand-held blender rather than a food processor, drape an old tea towel over the top when whizzing (I forgot this last time and our kitchen wall looked like the vegetable drawer had faced a firing squad).