Everyone has their own interpretation of a basic tomato sauce that can be used in all sorts of recipes. My version might find itself stirred into penne served with spinach and parmesan, added to a flavoursome soup, mixed into a vegetarian lasagna filling, poured over patatas bravas or smothering a homemade pizza base. It's super-easy to make and a large batch can be frozen into useful-sized portions.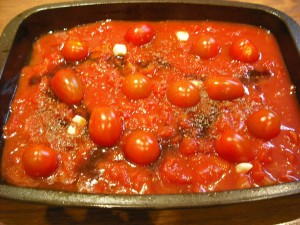 What you need:
Tomatoes – adjust the amount depending on how much of the end product you're hoping to end up with. 1 can of chopped tomatoes + six large fresh tomatoes + ten or so cherry or baby plum tomatoes = approximately 600ml of sauce. I try to use at least three varieties of tomatoes in my sauce to get a real depth of flavour.
Garlic – my philosophy is the more the better so, if you're going for the amount of tomatoes mentioned above, I'd recommend at least three cloves.
Olive oil – four tablespoons of really good quality oil.
Balsamic vinegar – two generous tablespoons.
Soft brown sugar – three heaped teaspoons.
Herbs and spices – a teaspoon of dried mixed herbs will do or, if you have it, a handful of chopped fresh basil. Pinches of salt and pepper.
What to do:
Pop all of the above ingredients, in the order listed, into an ovenproof dish.
Turn the oven up to 200C/400F/Gas and cook the sauce for half an hour.
Remove and leave to cool before blitzing in a blender until smooth.
Ta-da! You now have a great sauce for use now or later and a kitchen filled with one of the best smells on the planet.