There comes a point in your life when you have to ask yourself this one, vital question: why am I reading the internet when I could be tucking into a lip-smacking bowl of smoked mackerel dauphinoise potatoes? I asked myself that very question when I came across this recipe on Domesticsluttery.com last week and immediately I found myself compelled to leave my computer, march to the supermarket and cook like my life depended on it. The result – after a quick switcheroo of the ingredients because I decided that using absolutely full-fat everything would result in a food coma from which I might never awake – is my smokey dauphinoise.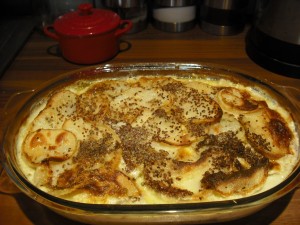 What goes in?
Three smoked mackerel fillets, flaked into pieces
Four large Maris Piper potatoes, thinly sliced
200ml single cream
200ml semi-skimmed milk
1 tbsp whole grain mustard
2 knobs of butter
1 clove of garlic
Salt and pepper
What do I do?
Rub a small knob of butter around the sides and base of an ovenproof dish to coat it. Then halve a clove of garlic and rub the two halves round the dish as well so you have a pungent, garlicky starting point for the dish.
Layer the finely sliced potatoes across the bottom of the dish, sprinkle across some of the mackerel and repeat until the dish is full (the top layer being potatoes).
In a bowl, mix the cream and milk together thoroughly and stir in the mustard.
Dot a few smears of butter across the top of the potatoes and pour over the milk, cream and mustard mix. The mustard seeds might settle on the top but this will make for an extra crunchy, hot top layer.  Season with a bit of salt and pepper.
Pop the dish in the oven at 160C/325F/Gas 3 for around 45 minutes and remove when the top is just passed golden brown in colour and the sauce is bubbling underneath.
Serve up generous helpings – this recipe should feed four hungry people – accompanied by plenty of green veg. Yum!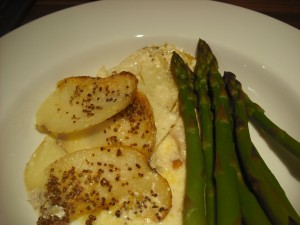 (FAO Ben – I post this in direct response to your awesome mozzarella mash recipe. You should consider this the start of the Great Potato War 2010!)