On holiday in the south of France last week with four other foodie types and some clever bod had an idea: why not make use of the local produce and the villa's fab kitchen in a Come-dine-with-me-style cook-off? The Channel 4 TV show is one of my guilty pleasures so I was pretty excited when our names went into an ashtray (no hat was available at the time) and we were each allocated a course to cook.
The menu on the night was as follows:
Canapés
Chilled cucumber and dill soup
Pea and parmesan arancini
Mini moules mariniere
Starter (by @simongoble)
Fresh vegetable risotto with gorgonzola
Fish Course (by @COOKBOOK_HQ)
Cod with a herb and multi-seed crust, roasted vine tomatoes
Main Course (by non-tweeter Aaron)
Spicy Tuscan bean stew with chorizo
Dessert (by @dsingleton)
Pear tarte tatin and homemade lavender ice cream
I don't really do delicate food – as you can see from some of the big old cakes that feature on this blog – so was initially dismayed when I drew the amuse-bouche/canapé course. I tried my best to scale down dishes that I would normally serve in great big bowls and, surprisingly, it turned out fairly well. So well, in fact, I thought I'd you'd like the recipes to have a go yourself (they serve five).
Chilled cucumber and dill soup
Ingredients
1 cucumber, peeled, seeded, coarsely chopped
1 onion, coarsely chopped
250ml vegetable stock
1 teaspoon dried dill
125ml double cream
Salt and pepper, to taste
Instructions

Place cucumber, onion and stock in a small saucepan, bring to a boil then reduce heat and simmer until soft

Using a blender puree with dill and cream until smooth

Add salt and pepper according to taste

Pour into a container with a pouring spout

Cover and refrigerate to chill until ready to serve (I served mine in some swish looking martini glasses)
Pea and parmesan arancini
Ingredients
Approx 200g risotto mix (see recipe in link below)
50g peas
2 eggs, beaten
100g breadcrumbs
600ml oil for frying
Rocket leaves to serve
Instructions
Make up a basic risotto recipe. I have my own depending on what's in the cupboard but you can find a easy-to-follow one here
Add a large handful of fresh peas and an extra 100g of parmesan to the risotto mix near the very end of it's cooking time
Roll the risotto into walnut-sized balls
Dip the balls in the beaten egg
Coat the balls in breadcrumbs
Deep-fry in the hot oil for 2-3 minutes until golden
Remove from the oil and place on a sheet of kitchen roll to absorb any excess oil
Serve on a bed of rocket
Mini moules mariniere
Ingredients

1 onion

1 clove garlic

2 tablespoons of oil

500g mussels, de-bearded and carefully scrubbed

1 bunch of herbs de provence or similar bouquet garni

150ml white wine

200ml double cream

Crusty bread to serve
Instructions
Fry the onion and garlic in the oil with the herbs in a large, deep saucepan
Tip in the mussels
Pour in the wine and simmer for approximately four minutes with a lid on until the mussels are open and pink in colour (discard any that fail to open with the heat – they've probably been dead for yonks)
Remove the parcel of herbs
Stir in the cream and cook for one more minute
Serve steaming in little bowls with plenty of crusty bread to mop up the sauce
And here's the end product, yum!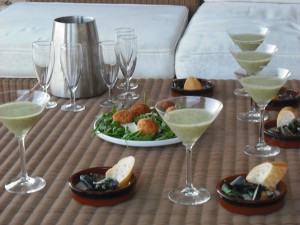 I'm just glad I didn't do pudding. After the four types of wine we served with dinner, I'm not sure I would have been able to locate a plate, let alone serve up anything appetising!  Indeed, the hangover might be one of the reasons we still haven't decided who won the competition…