Boil 'em, mash 'em, stick 'em in a stew. Or, in our case, grow 'em on a third floor balcony in Hackney and tuck into 'em fresh out of the earth.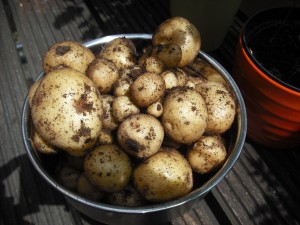 We'd been tending these glorious potatoes (Organic Orlas and Maris Peers) since early March and enjoyed a continuous harvest from mid June until the final batch was uprooted last week. There's such pure joy in digging up the bounty, quickly boiling the little golden vegetables and devouring them coated in nothing but real butter and fresh mint.
It's all about making the most of our limited space and the handy planter bags that we used to grow our spuds have immediately been refreshed and replanted with carrots for the autumn.   Have you tried creating an urban kitchen garden?  What would you recommend we grow now?