High up on my long list of things I love sits champagne and exploring.  Not far behind you'll find the English seaside and all food associated with it.  Three years ago I discovered a place that combines all of these things.  That place is a wooden shack on the edge of an Essex salt marsh accessible only by a tidal causeway.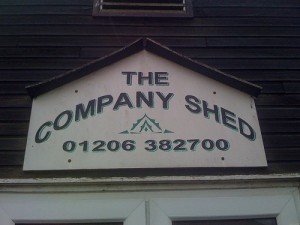 The Company Shed sits on the western edge of Mersea Island (1 ½ hours outside of London) and this fishmongers-cum-seafood eatery is one of my favourite date spots.  We've visited often to grab provisions for spring picnics but for the first time last weekend we braved the bleak landscape, frequent downpours and queues on the door to sit inside the shed itself and soak up its damp, salty, bustling atmosphere.
Oh, and eat the finest farmed flat oysters in the country.  And the crab.  And the prawns, peppered mackerel, smoked salmon, vinegary cockles, and crevettes.  Somehow the hot scallops with crispy bacon and the steaming mussels in cider also found their way on to our plates.  I genuinely have no idea how it happened, but we basically ate the sea.
We grabbed two plastic cups and a roll of kitchen towel from the shelf behind the fish counter and perched at our tiny table (stashing our champagne, salty butter and crusty bread brought from home on the floor).  Within moments the tide of seafood washed over our table and we had no choice but to dive right in.  And it was brilliant.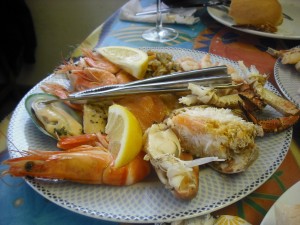 After an hour of munching, cracking and picking we'd amassed an impressive pile of shells of all shapes and colours and there was little more to be done than sit back and polish off the booze while failing to be subtle about eavesdropping on the conversations of other diners.
We settled up (our feast came in at £20 a head) and, before we left, invested £1 in two tubs of The Company Shed's own fish stock to put to use in our own recipes at home.  There are so many great things about this place: the food; the price; and the atmosphere.  But best of all is the fact you can walk straight out of the door, onto the beach and immediately start walking off the inevitable food coma!