Gravlax is made with a dry cure: a mixture of salt, sugar and herbs which both preserve and flavour the fish.  Here's a really easy, really quick little recipe that, if prepared in advance, will provide the basis of a luxurious minimum input/maximum yield mid-week dinner.
Ingredients
A side of salmon, halved, or 2 large skin-on salmon fillets
100g Maldon sea salt flakes (or similar)
100g demerara sugar
A handful of fresh chopped dill
3 generous glugs of gin – quality is irrelevant.  I used deathly strong gin home-brewed by one of David's colleagues but it didn't make a blind bit of difference.  Gin is gin when you're using this much salt!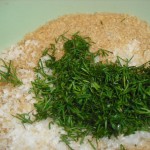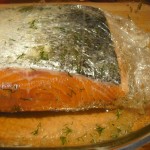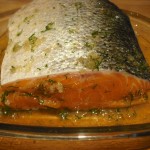 Intructions
Pop the salmon in the freezer for at least two hours to kill off any unpleasant bugs then defrost it in the fridge.
In a bowl, mix together the salt, sugar, dill and gin.
Layer a third of the cure mix into the base of a flat-bottomed, non-metallic bowl.
Lay one piece of the salmon skin side down on this bed and scatter another third of cure mix over the top.
Place the second piece skin side up onto the first, press down firmly and cover with the remaining mixture.
Carefully wrap the fish tightly in cling film (leaving the ends of the package open to allow the juices to escape) and return to the flat-bottomed bowl.
Place a plate on top of the salmon and press down hard.  Then load the plate with as many heavy items as possible as the fish needs to be pressed whilst it cures.  I find that packs of butter and jars of jam do the trick.
Pop the whole lot in the fridge for three days and wait patiently.  After 72 hours the cure will have worked its magic and the dish will contain a good deal of liquid (a sort of concentrated brine).
Your flavourful dill & gin gravlax is now ready to eat.  Drain it, unwrap it and slice it very thinly.  This is perfect sprinkled with a little  lemon juice and served with crusty brown bread and butter.