Here is a great recipe for a light but flavourful summer stew.  It's based on a classic Spanish recipe called suquet de peix but with a few substitutions to account for our love of mussels, hatred of celery and what was available on the booze shelf.  There's a fair amount of preparation going on here but it's worth it for the depth of flavour in the resulting broth (which mops up well with crusty bread smothered in salty butter) and I can guarantee you'll be back for second helpings.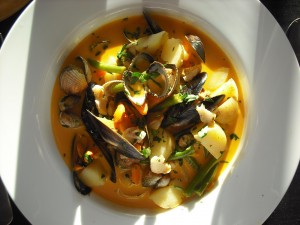 Ingredients
For the sauce
2 tbsp olive oil
2 shallots, chopped
1 carrot, chopped
1 leek, chopped
1 bulb fennel, chopped
2 cloves garlic, chopped
30g tomato purée
4 large tomatoes, chopped
60ml whisky (traditionally you should use brandy)
175ml white wine
300g mixed salmon and cod, chopped
900ml pints fish stock (we made ours from scratch which was dead easy)
1 tsp herbs de Provence
1 sprig tarragon
pinch cayenne pepper
For the stew
400g assorted fish and shellfish (we used sustainably sourced salmon, coley, mussels and cockles for the pictured dish but we'll definitely replace the cockles with clams next time)
12 new potatoes, quartered and cooked
1 large carrot, sliced and cooked
80g fine beans, chopped and cooked
80ml double cream
1 tbsp chopped fresh parsley
the juice of 1 lemon
salt and pepper
Instructions
For the sauce, heat the oil in a saucepan. Add the shallots, leek, carrot, fennel, and garlic and fry for 10 minutes over a low heat until soft.
Add the tomato purée, chopped tomatoes, white wine and whisky and cook to reduce by half.
Add the chopped salmon and cod and cook for five minutes.
Add the stock, herbs de Provence, tarragon and cayenne pepper, then cover and simmer for 40 minutes.
Blend the mixture, then push through a sieve (this bit takes ages but be patient!).
For the stew, pour the sieved sauce back into a large saucepan and bring to the boil. Add the fish and vegetables and simmer for 3-4 minutes.  The fish should be cooked and the shellfish open.
When cooked, stir in the double cream and mix through the parsley.
Stir in the lemon juice and season.