I can't remember why I decided to try and make a batch of custard creams.  I think I caught sight of the lovely Hope & Greenwood confectionery cookbook on my Amazon recommendations (I haven't bought it yet if you'd like to send a copy my way) and was overwhelmed with nostalgia for ten-penny mix-ups, blue panda pops and 'special occasion' biscuits presented on a saucer by my nan.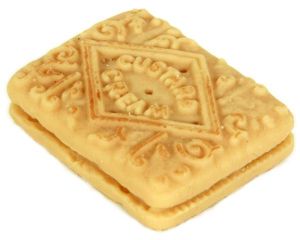 I feel you have to respect a woman who regarded custard creams as sophisticated but repeatedly rejected my requests for 'flashy' party rings.  This recipe is my attempt to find a middle-ground: somewhere between the baroque swirl-adorned custard cream we know and love and an altogether more modern mouthful.
Ingredients
For the biscuits
225g plain flour
50g custard powder
30g icing sugar
175g refrigerated butter (unsalted)
1/2 tsp vanilla bean paste
For the buttercream filling
50g softened butter (unsalted)
200g icing sugar
2 tbsp custard powder
Instructions
For the biscuits
Place the flour, custard powder, icing sugar into a bowl and mix (preferably using an electric mixer for ease)
Chop the butter in to small cubes and add it, and vanilla bean paste, to the flour mixture
Mix until the dough starts to come together, finishing off with a quick knead by hand
Tip the mixture out onto a surface and bring together into a ball (there should be a really pleasing golden-custardy colour to the dough at this stage and it will smell wonderful)
Wrap in cling film and refrigerate for around 30 minutes (and no less than 20)
While the mixture's in the fridge preheat the oven to 160oC
Once chilled, place the dough on a floured surface and roll to the thickness of a pound coin
Cut out small rounds (mine were about 3cm in diameter) and prick with a fork
Place on a baking tray parchment lined with parchment and bake for 10 minutes (or until just starting to colour around the edges). Watch them carefully – they go from perfect to crispy in moments!
Cool on a wire rack
For the buttercream
Place the butter in the bowl of an electric mixer and beat until light and creamy
Slowly incorporate the icing sugar and custard powder and beat until smooth and fluffy
Place the buttercream into a piping bag and pipe onto half of the biscuits sandwiching together with a second biscuit.  These can be fragile little biscuits so a light touch goes a long way here.  And there you have it, a batch of approximately 20 biscuits that will last for a few days in an airtight container or around 30 second if left unattended on a 'special occasion' saucer.