I really need to persuade Ben and David to write more frequently about BBQ beef ribs, the perfect mole sauce and other delicious umami things like that.  Any munchmun.ch reader would think we're trying to give them diabetes.  Oh well, here is a pavlova recipe I've been working on over the last couple of weeks.  Only give this a go if you're on friendly terms with your dentist!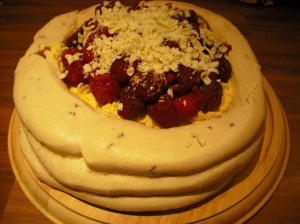 Ingredients
250g fresh raspberries
The whites of 4 medium eggs (ones approaching their use by date are ideal for meringue)
220g caster sugar
2 tbsp freeze-dried raspberries
100g white chocolate
1 pot of clotted cream
Instructions
Making the shell
Trace the online of a plate onto greaseproof paper and place on a flat baking tray
Pre-heat the oven to 110oC
Take 50g of the raspberries and push them through a sieve using a wooden spoon, reserving the juice
Place your egg whites in a deep bowl and beat using an electric mixer on a high setting
Beat for approximately 3 minutes or until you have stiff peaks (watch you don't go too far – you'll end up with a watery froth)
Beat in the caster sugar a tablespoon at a time until the mixture turns glossy
Stir in the freeze-dried raspberries and the raspberry juice gently with a metal spoon. Don't over mix – you want a swirled effect
Pipe the mixture onto your traced outline starting at the outside and spiralling in until you reach the middle.  Pipe an extra two layers of mixture on top of the outer circle
Place in the oven and bake for 1½ hours.  The low heat means that you're really just drying out the meringue, rather than cooking it through
Remove from oven and carefully transfer to a wire rack to cool
Filling the shell
While your shell is cooling, melt the white chocolate over a Bain Marie (reserving a couple of chunks to grate over the top of your pavlova as a finishing touch)
Using a pastry brush, paint the inside of your shell with white chocolate.  Left to set this not only tastes nice but will form a wall between the cream and the meringue which will stop the shell going soggy (and provides a little extra support if things are looking fragile!)
Fill the shell with clotted cream, tip the raspberries on the top and sprinkle over the grated white chocolate.
Consume and die of sugar.