Regular readers of this blog will realise that while I love cooking in general, creating puddings, sweets and bakes is what really gives me my culinary kicks. 
Almost a year since my first visit, I'll soon be heading back to Leith's School of Food and Wine.  This time it's courtesy of my best friend (and devout worshipper of the sacred cinnamon swirl), Fiona.  She's decided that the one thing I need to improve my life, and presumably hers, is the ability to construct a perfect Sicilian lemon meringue sundae.  As such, I am being sent on a 'Retro puddings workshop' and shall return laden with treats.
In the meantime, here is a recipe for you that I didn't have to go to school to learn.  I often used to boldly state that "I don't do pastry".  That was until just over a month ago when I decided that, having been given the task of cooking dessert for ten on Christmas day, I should face my pastry demons.  As an alternative to the sticky, heavy, boozy Christmas pud produced by my mother I thought I'd try my hand at some zesty lemon tarts.  Lo and behold, they did not burn, they did not flop and they did not fall apart!  Such was my joy at this, I am sharing my recipe* so that you too might feel like the cook you've always wanted to be…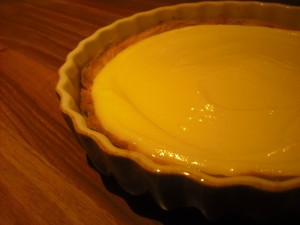 Pastry
Ingredients
255g unsalted butter
200g caster sugar
1/4 tsp salt
2 eggs
500g plain flour
Instructions
In a large bowl combine the butter, sugar and salt by mixing until smooth (I use a hand-mixer)
Mix in one of the eggs until smooth and then do the same with the other
Add the flour all at once and then mix on a low speed until incorporated
Tip the mixture on to a lightly floured work surface and divide into four and shape into a disk about 2cm thick
Wrap the disks in clingfilm and chill for two hours
Roll out pastry (do this quickly and avoid touching the dough too much) to the thickness you want – but no more than 1/2cm – and cut to fit your tart tin (you'll get about 12 individual tartlets from this recipe or 4 nine-inch tart shells)
Press pastry into the tin, trim with a sharp knife and pop into the fridge for a final ten minute chill
Cook for a maximum of 10 minutes in a 190 degree but keep an eye out and remove them when golden brown in colour
Cool them on a wire rack and get on with making the filling
Lemon cream filling
Ingredients
155ml lemon juice
3 eggs & 1 egg yolk
170g caster sugar
A pinch of salt
225g unsalted butter
Instructions
Set up a bain marie on the hob
Combine the lemon juice, whole eggs, egg yolk, sugar and salt in a bowl
Place the bowl over the boiling water a whisk the ingredients together immediately
Keep whisking for 10 minutes or so (sorry, this takes some elbow grease) until the mixture becomes very thick
Remove the mixture from the heat and leave to cool slightly (about 60 degrees – ie still hot-ish – should do it)
While the mixture is cooling cut the butter into one-inch cubes
Using an electric whisk, mix the each cube of butter fully in to the warm mixture and then add the next, once all the butter is gone give the mixture one last thirty second blast with the whisk and you should be left with a thick, pale and glossy cream
Pour the lemon filling into your tart base, smooth out and leave to set in a fridge for at least 15 minutes.  All that's left to do now is try not to look too smug when everyone exclaims how amazing it tastes.
*based on a version that appears in this cookbook