#1 Fire & Knives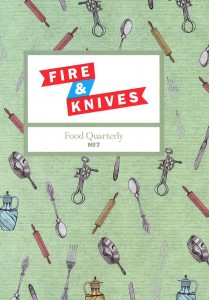 We've often mentioned cookbooks and blogs that we love on munchmun.ch but here's a delicious little magazine that deserves your utmost attention: Fire & Knives Food Quarterly.  It's a beautiful publication I've only just recently discovered and I'm pretty excited about it.  This 'new writing for food lovers' is totally different from anything else on my bookshelf, the main difference being it won't get covered in smudges of cake batter or dribbles of lemon juice as it contains no recipes. 
This is a tiny book of bite-sized essays about food, eating, memory, flavour and the culture of the kitchen.  The list of contributors is intriguing.  For example, in the latest volume the editor, Tim Hayward, has curated accounts by Tom Alexander, Mina Holland, Tom Parker Bowles and seventeen others.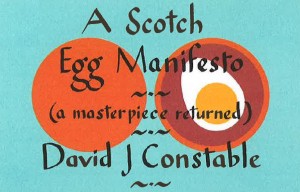 My favourite piece in edition No.7 is David J Constable's moving ode to the Scotch egg.  Now, I'm vegetarian but after reading this romantic, passionate description of the traditional picnic treat I'll admit that I felt I could return to the meatier side of life. 
Frankly, the pickled onion can slowly suffocate in its jar of vinegar, mouldering on the back shelf of a bar, and the pork scratching – that disfigured popcorn parody – can have the award for swollen, artery-clogging obese morsel.  And you, pork pie, you mahogany-coloured savoury confection only appreciated in the North, you can remain the highlight of the farmer's snack.  All pale in significance alongside the Scotch egg.  ALL. 
This spherical delight, then – like a model assembly of the sun – beautifully designed and crafted and oohhhh, that memorable meaty aroma to treasure, as if God were to fart.  It's a winner, always has been.  A masterpiece returned.
– David J Constable
Not only is the writing interesting and inspiring but the quality of the graphic design, typography and layout (check out the image from the endpapers below) makes Fire & Knives a foodie periodical worth collecting.